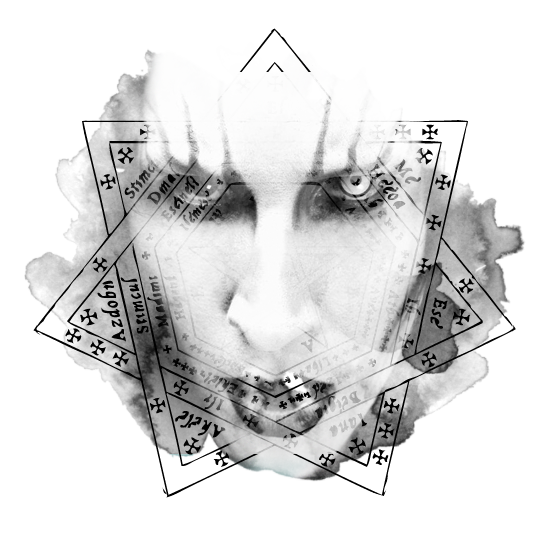 MARILYN MANSON
HOLY WOOD
(IN THE SHADOW OF THE VALLEY OF DEATH)

20 Years Ago Marilyn Manson released the third and final beast of the Triptych which began with Antichrist Superstar, followed by Mechanical Animals and completed with Holy Wood (In The Shadow Of The Valley Of Death)

Holy Wood comes hot off the back of one of the most violent acts at the time, Columbine High School Massacre. This highly televised and talked about event became such a focus with the media and masses blaming Marilyn Manson for inspiring the gunmen with his music... completely overlooking the fact that gun control in America is out of control and the two gunmen weren't even fans of his anyway.
Instead, the media propelled them to a celebrity status and two gunmen appeared on magazine covers and became household names, more so than the victims that lost their lives.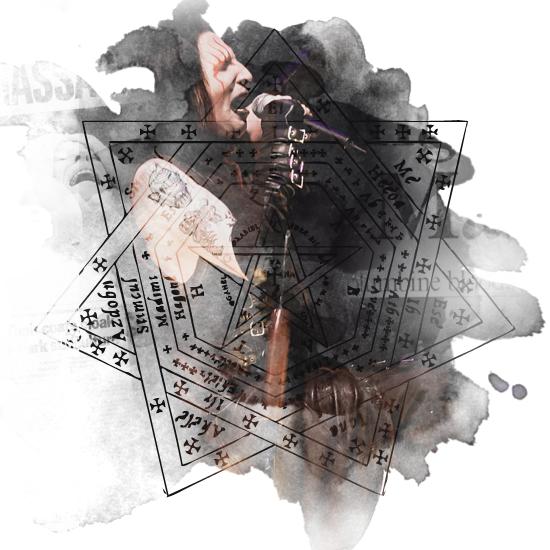 Marilyn Manson's name is taken from the same ideals how Charles Manson could be held to the same celebrity status as Marilyn Monroe. This act of death, violence, stars, killers, celebrity and fame runs through his work but really came together in a major element for Holy Wood.

Manson has stated how the assassination of John F. Kennedy was one of the most violent and shocking things he's ever seen on T.V. and his immediate death found a whole new fame, a modern day martyr which Manson parallel with the death of Jesus Christ. JFK became a second Christ when he died on T.V. with millions watching the event, this second Christ theme was already embedded in the video for Coma White from Mechanical Animals.
The assassination of John Lennon and the fame awarded to Mark David Chapman is also included and connected, death and fame is an element which runs deep with Manson creating a new word to encapsulate these as "Celebritarian" events.

In the artwork we see a third Christ figure and this time it's Marilyn Manson himself, the rockstar, celebrity, martyr, whatever the media and masses want to call him... he took arrows in the back and came back stronger than ever. The artwork was banned in stores due to Manson appearing as Christ on the cover, the irony is that the Christ figure is the body of Christ and only Manson's face appears on the cover.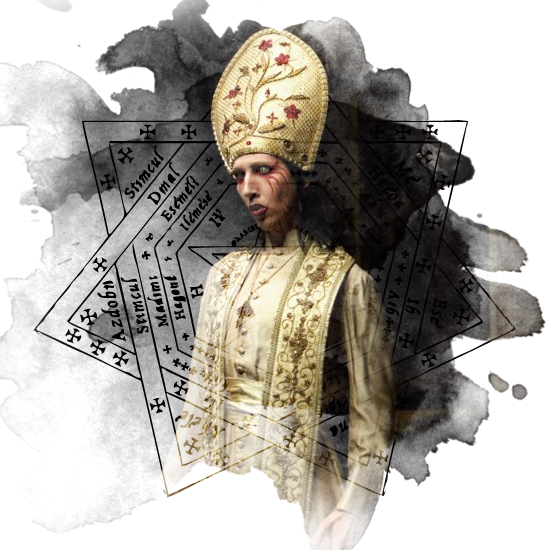 Guns, the media and violence continue through the album making powerful questions and statements about gun control. One of the most violent high school shootings had just taken place and yet everyone's answer was to blame Marilyn Manson's music. Nobody looked into why it happened or how to prevent it and throughout the years, year after year, it's the same story but different names.

This album also begins a story where we're dropped into this world where the character Adam is in Death Valley, he's an outcast with the goal to move into Holy Wood. Holy Wood is the place to be, and can be viewed in a similar way that people believe moving to Hollywood is the best thing that could happen to them. Adam realises that it isn't a perfect world in Holy Wood, violence and entertainment, guns, god and government, death and fame are a way of life. He rebels against this and seeks to start a revolution to change the world.

We're now celebrating 20 years of Holy Wood, 20 years ago the songs, statements, essays and interviews that Marilyn Manson gave contained the most well-thought-out and presented questions and answers needed at the time. But in 20 years nothing has changed and this album and ideals remain relevant even more so now than ever before...

JOIN US AS WE GO THROUGH THE ARCHIVES OF MUSIC, VISUALS, VIDEOS AND TOURS AND TELL US NOW MORE THAN EVER...

DO YOU LOVE YOUR GUNS? GOD? THE GOVERNMENT?

FUCK YEAH!